When selling your home there are many things you can do to attract potential buyers and also add value, from decluttering, to mowing your lawn, freshening up paint work and adding a few plants here and there. Home staging gives any property an edge, and can ensure buyers are eager to view based on what they see on screen. But no matter how beautiful and striking your property is, how luxurious and elegant the interior, how immaculate and pretty your garden is, it will all amount to nothing if you don't get the price right from the start.
The facts
Before we jump in with why, let's begin with the facts. A recent study by Rightmove of 300,000 homes that went on the market between 13 May and 31 July this year, found that you are twice as likely to sell if you accept an offer from a buyer on the original asking price, rather than one that has been reduced. In other words, should the value of the property be right from the start, you double your chance of finding a buyer in North London.
Tim Bannister, Rightmove's director of property data, said: "This analysis shows just how vital it is that sellers listen to their agent when they recommend the asking price. If sellers are serious about selling, then starting with too high an asking price can cause unnecessary delays. And also make it a lot less likely they will actually find a buyer."
The reality
The facts are interesting but what is the reality? Let's face it, we are all human, and who doesn't want to hear that the home you have put a lot of love, care, hard work and money into over the years has grown in value. It's exciting, and opens up lots of possibilities for your future. So when you invite a number of estate agents to value your home, and one says it's worth more than the other agents have quoted, who wouldn't be biting their hands off?
You may have decided yourself what you want for your home, and won't take a penny less.
STOP!!! THINK!!
As the saying goes, your home is only worth what someone is willing to pay for it. And this is true in part, but more about that later. But what's the harm in placing your house on the market with this high asking price and seeing if you have a nibble?
The curse of greed
The first few days your house is on the market in North London is crucial, this is the period when interest will be the highest. Active buyers will be eagerly awaiting new properties that are in their price range, and booking viewings quickly in the hope of being one of the first through the door.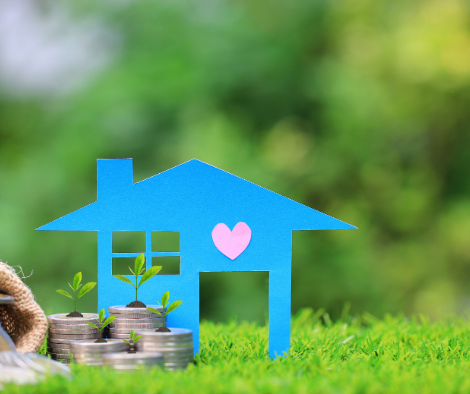 These hungry buyers may not even get to see your property, because it won't show in their property search if the price is too high and out of their set range. Even if your home does pop up in their listings, they are not daft, they know the property market in North London, and will have a sense of what your home is worth in the current market.
So, what happens?
You may get a trickle of buyers, not the surge interest you were hoping for, and if an offer comes in it will probably be a lot lower than you expected. As time passes, your home becomes less desirable, viewings dry up, and it is left on the shelf. With no other options available to you, your high-valuing estate agent decides to reduce the price – well what's the harm?
Sadly, the damage is already done, having even just one price reduction will increase the time it takes for you to find a buyer. Buyers who may have seen your property weeks earlier will be curious as to why the reduction – is there something wrong with the property? Maybe they're desperate to sell and will take a cheeky offer. The perception isn't good, we're afraid, which is why at Ariston Property, we may keep repeating ourselves, but we price properties to SELL, not to become STALE.
The price is the start
There are many things we take into account when valuing a property, not only the condition of your home, the reason you wish to move, and any timescales you are working to. This enables us to put a pricing strategy together, the idea being that we will aim to get close to, or even, where possible, exceed the price we believe your property is worth.
The sale price is a starting point, using terms like 'guide price' or 'offers above' shows buyers that this is not the price at which this property will be sold. Negotiation is a skill, an art form our team at Ariston Propertyare trained in. We believe in investing in our teams, and we continue to develop new skills and practices from experts all over the world to ensure that our teams are confident and highly proficient in the art of negotiation.
Just like you, we want to sell your home for the highest possible price, and we will do everything we can to ensure that we achieve this.
The PRICE is the key
When choosing an estate agent, make sure you understand their methodology for selling your home. Do they have a history of quickly reducing the sale price of properties they sell, or can they prove they regularly achieve close to the asking price? It's easy for estate agents to provide you with this information, but do your own research too; keep an eye on your local market, you will easily be able to spot those agents with a high number of properties that have been reduced.
The price is right
"Higher, lower" we hear sellers and buyers cry! But this is no game show, this is your biggest asset so don't play games, get it right from the start. At Ariston Property, we know the importance of price and we will ensure that you will be winning your way to a sale.
Book a valuation on your home today by calling our team on 020 7272 9988.